Poster Contest: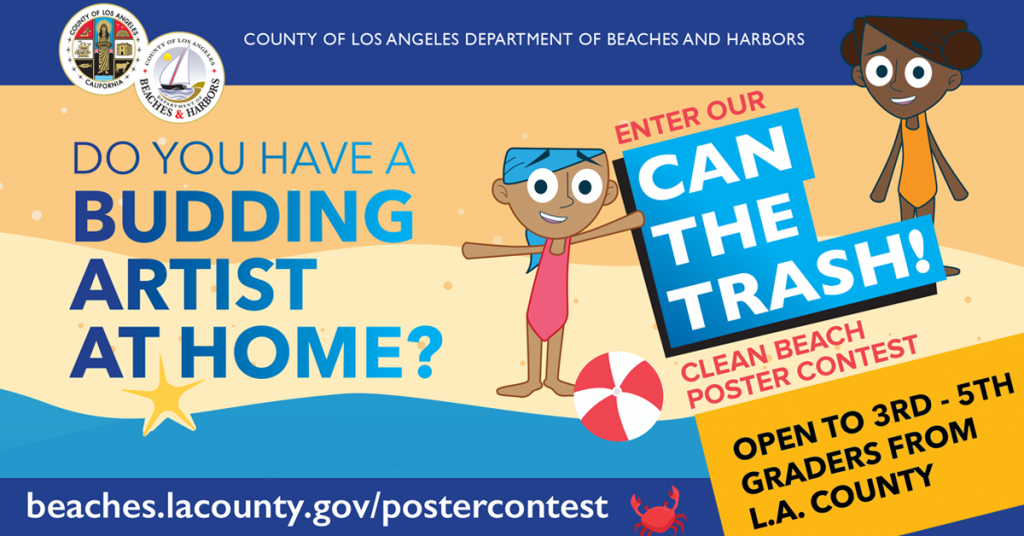 Enter our CAN THE TRASH! Clean Beach Poster Contest for a chance to have your message shared with millions of beachgoers!
To enter the poster contest, draw a picture with a message about how we can keep our oceans and beaches pollution-free and healthy. Be creative!
ENTRY RULES AND GUIDELINES
Artwork must be hand-drawn on an 8.5″ x 11″ white sheet of paper, in landscape orientation.
Create artwork in color.
Must not contain copyrighted text or characters.
Artwork must be original and created 100% by the student contestant.
More than one entry is permitted. A separate entry form is required for each entry.
One winner from each grade will be selected by each of the five County Supervisorial Districts. A total of 15 winners will be selected. Winners will be contacted directly and announced on the contest webpage.
Contest winners will have their artwork displayed around trash barrels on the beach. Simply submit your artwork online, in person, or by mail. The contest is open to students in grades 3 – 5 who reside in the County of Los Angeles. Online submissions must be entered by an adult.
2023 Summer Contest: This contest cycle is now closed. We are currently reviewing all submissions. Winners will be contacted directly.
2024 Summer Contest: We are now submitting submissions for summer 2024. 
HOW TO ENTER
> To enter online click ENTER NOW.
> To enter by mail or in person DOWNLOAD ENTRY FORM.
> Please email your questions to postercontest@bh.lacounty.gov.
To view the winning artwork from past contest cycles, CLICK HERE.