THINGS TO DO AT THE BEACH
BEACH ACCESS
The Department of Beaches and Harbors offers access mats at seven beaches. These mats are made of a synthetic mesh that provides a firmer surface for those who need it to cross the sand, such as people who use wheelchairs or other mobility aids. No special equipment is required. The mats are located at the following beaches:
Dockweiler State Beach
Manhattan Beach
Marina "Mother's" Beach
Topanga Beach
Torrance Beach
Venice Beach (available April through October)
Will Rogers State Beach
Zuma Beach (available April through October)
Beach wheelchairs are available for use by the public free of charge at select beaches  during daylight hours.
Beach wheelchairs may only be reserved in advance at the Dockweiler Youth Center (more information below). Beach wheelchairs at all other locations are available on a first-come, first-served basis. Availability varies by location.
Download Beach Wheelchair Information Sheet
The information sheet lists all locations where beach wheelchairs are available, as well as the address, contact information, and special instructions or comments for each location.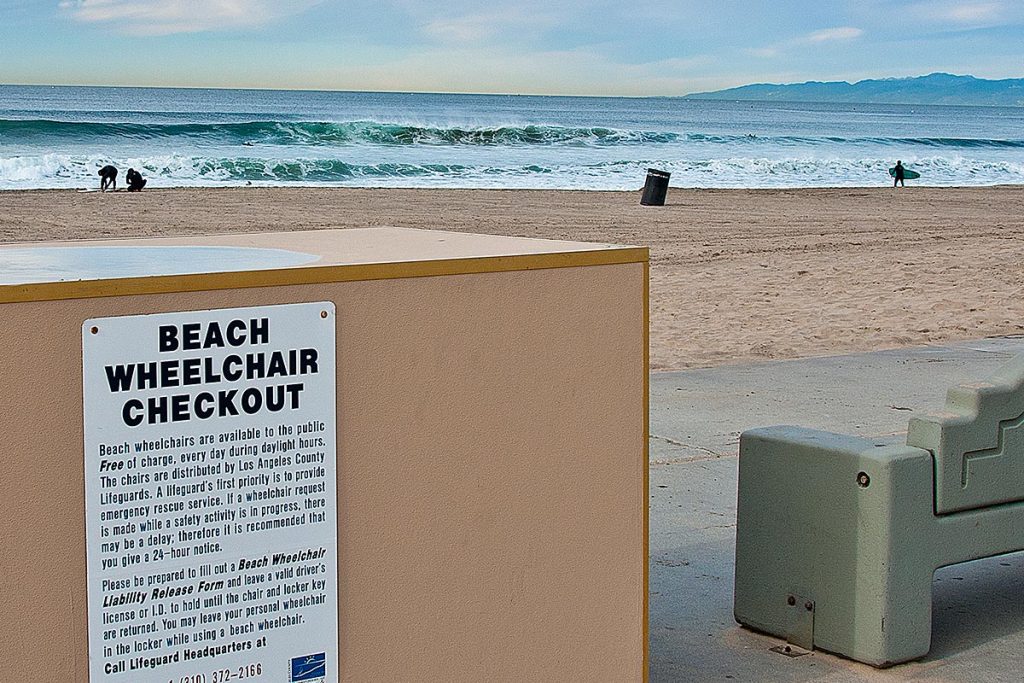 Please be prepared to fill out a Beach Wheelchair Liability Release Form and leave a valid driver license or I.D. to hold as collateral until the chair is returned. You may leave your personal wheelchair in the storage locker or facility while using a beach wheelchair.
Download Beach Wheelchair Liability Release Form
If you have any questions or need more information, please call (424) 526-7842.
Our department offers a Beach Wheelchair Service at the Dockweiler Youth Center, for disabled patrons in need of beach wheelchair usage. 
The service guidelines are as follows:
Wheelchairs Available: 6
Hours: 9 am – 5 pm, daily
RSVP: At least 24-hr. advance reservation required*, by calling (310) 726-4128. 
Time Limit: Maximum reservation is for 2-hours use.
Wheelchair Use Cost: FREE
Parking: Metered Spaces: $0.25 per 10 minutes (90 minute maximum) // All Day Summer Rates: Mon-Fri $8, Sat-Sun $13
REQUIREMENTS: Must have I.D. & sign liability waiver
Wheelchair ramp over sand is available.
Upon arrival, please call

(310) 726-4128

 and assistance will be provided.
* RSVPs taken no earlier than 1 week in advance, and no later than 24 hours before, reservation date.