MARINA DEL REY
ANCHORAGE 47 BOAT SLIPS
BOATING
ANCHORAGE 47 BOAT SLIPS
Managed By
COMMUNITY & MARKETING SERVICES DIVISION
Boating Section
Office:
13575 Mindanao Way
Marina del Rey, CA 90292
Phone: (424) 526-7892
Fax: (310) 821-1621
Email: boating@bh.lacounty.gov
Service Window Hours:
– Sunday – Wednesday
– 8 am – 4 pm (closed 1 pm – 2 pm)
– Closed Holidays
L.A. County  Department of Beaches and Harbors (DBH) manages the slip rentals for Anchorage 47, located at the west end of Mindanao Way, next to Burton Chace Park (G basin).
Please contact the DBH Boating Section to obtain information about availability, fees, or an appointment to submit an application.
FOR PROSPECTIVE SLIP PERMITTEES
Slip Rental Rates
Click here to view the current Slip Rental Rates.
Anchorage 47 currently has 253 single berth slips, and 11 end-ties, in sizes 45.5′ to 86′.
Checklist of Prospective Permittee Requirements
Click here to view the Prospective Permittee Requirements.
This checklist is intended to guide prospective permittees through the application process prior to submitting an application.  All the listed supporting documents are required to be submitted in order for an Anchorage 47 Boat Slip Rental Application to be considered complete.
Anchorage 47 Application
Click here to view the full Anchorage 47 Boat Slip Rental Application and Permit.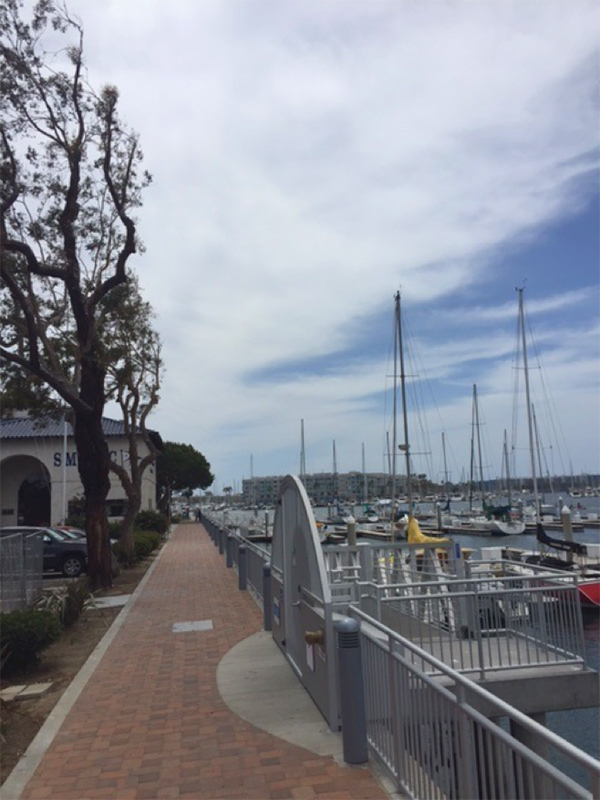 FOR CURRENT SLIP PERMITTEES
Vessel Registration
All slip permittees are required to provide proof of a current valid California vessel registration or United States Coast Guard documentation, and to provide proof on request.
Vessel Liability Insurance
Each permittee must have current vessel liability insurance with a per occurrence coverage limit at least $300,000 and with "County of Los Angeles Department of Beaches and Harbors" listed as an additionally insured interest.
Assigned Slips
Vessels must be kept in their assigned slip. Use of vacant or empty slips may result in your vessel being impounded, and/or the termination of your slip rental permit.
No use of vacant or empty slips is permitted. Do not allow visitors to moor in empty slips.
Anchorage 47 Electrical Requirements
Click here for the full Electrical Requirements.
In order to protect the boating public from the hazards of electric shock, DBH requires Anchorage 47 tenants to use Ground Fault Circuit Interrupter (GFCI) protection on all shore power connections.  All tenant boats must be tested by DBH before being allowed to move to the new docks.
Liveaboard Policy
County Code 19.12.1110 reads: No person shall, within a county harbor, waterway, or maritime facility, use any vessel, floating home, houseboat, or any other floating facility as an abode in excess of three days within any one-week period unless such person shall first have authorization by the lessee, agent, manager or person in charge of such facility for liveaboard status, and secondly, have obtained a liveaboard permit from the harbor master.
All tenants must adhere to County Code, or you will risk termination of your slip permit.
Proof of Current Address must be provided for non-Liveaboard Permittees at the time of application, and upon request.
Sale, Transfer or Gifting of Vessels
Permittee shall give written notice to the Marina Manager within five (5) days of any sale or transfer of the ownership, title or registration of the Vessel, or any portion thereof. The County, at its option, will require the new owner to comply with the application requirements and become the Permittee or Co-Permittee, if applicable, within five (5) days of the County's receipt of written notice of the sale or transfer of the ownership, title, or registration of the Vessel, or any portion thereof.  Failure to comply shall cause the Permit to be terminated and the Slip surrendered at once.
The transfer of interest in the Vessel shall not relieve the Permittee of their obligations under the Permit and shall remain fully liable for all rents and charges accruing even though Permittee may no longer own the Vessel.
Notice of Cancellation or Termination
Click here for the Slip Cancellation Form.
All cancellations must be in writing, and received 30 days in advance.
All notices of cancellation must be mailed to:
Los Angeles County Department of Beaches and Harbors
ATTN: Boating Section
13575 Mindanao Way
Marina del Rey, CA 90292
You may also email your notice to boating@bh.lacounty.gov.
Payment of Slip Fees
Invoices are mailed approximately 15-17 days in advance of the due date.
Slip fees are due on the 1st day of each month. Late fees will be assessed after the 15th day of each month, at 10% of the full invoice amount. If the 15th falls on a Friday, Saturday, Sunday, or County Holiday, payments must be received by the preceding Thursday in order to avoid late fees. Due to the generous grace period extended to Anchorage 47 permittees, late fees will not be waived. No exceptions.
CREDIT CARD PAYMENTS Due to the building closures, in-person payment processing is not possible. Instead, credit card payments may be taken over the phone.
HOURS: Seven days a week, 8 AM – 4 PM
PHONE: (424) 526-7890
No Online Payment System
Click here to see where to find your Agreement Number.
There is no online payment system available at this time.  However, you may choose to arrange automatic payments through your financial institution. When submitting an online payment through your bank, please instruct your bank to use your permittee Agreement Number as the account number referenced in payments.
Please have payments sent to:
Department of Beaches & Harbors
ATTN: Financial Services Section
4640 Admiralty Way, Suite 300
Marina del Rey, CA 90292
Any additional questions can be directed to the Boating Section at (424) 526-7892. Anchorage 47's management's goal is to operate a clean, safe and enjoyable marina. Thank you for your cooperation.