MARINA DEL REY
PARKS & GREEN SPACES
THINGS TO DO IN THE MARINA
BURTON W. CHACE PARK
OFFICE HOURS
8am – 8pm, 7 days a week
This beautiful 10-acre park is a crown jewel of the Marina. Jutting out into the main channel, it offers one of the best vista points, and is perfect for a morning jog or leisurely picnic or BBQ. It's also a great place to just sit back and watch the sunset.
Burton W. Chace Park offers a multi-purpose room picnic tables, barbecues, pergolas, picnic shelters, outdoor programs, great harbor viewing areas, guest docks, and is host to numerous year-round events. The park is wheelchair and stroller accessible.
The multi-purpose community room, park grounds, pergolas, and picnic shelters with barbecues are available for meetings or social gatherings such as wedding receptions, birthday parties, baby showers, etc.
Multi-Purpose Room
The Community Room at Chace Park has one large meeting room with a full kitchen. The patios surrounding the Community Room offer a choice of sun or shade. There are benches on the patios to enjoy the outdoors during meeting breaks.
Reservations for rental spaces in the park are taken no earlier than 90 days prior to the event date, but no later than 15 days before the event date.  All fees, proof of insurance and completed application forms are due 15 days before the event; otherwise a late processing fee of $100 per day will be applied.
All reservations require an insurance certificate in the amount of $1 million general liability coverage and $2 million general aggregate coverage.  An Additional Insured Endorsement naming "County of Los Angeles" as an additional insured is also required.
For the insurance requirements, you may go through a broker of your choice.
For reservations and prices, please call (424) 526-7910 or download the reservation application.  All reservations require a security deposit.  Some reservations may require additional permits.
Park Grounds
Imagine your wedding outdoors overlooking Marina del Rey. The park grounds of Burton W. Chace Park offer several locations (North Pergola, South Pergola, or the Bridge) for a memorable wedding.
The park grounds can also be rented for corporate picnics, weddings, and special events. There is room on the wide lawns for children to play.
Picnic Shelters
There are three picnic shelters (A, B, and C). Each shelter has 6 picnic tables and 6 barbecue grills and each shelter may seat up to 48 people.
Reservations are only taken for Picnic Shelter "A".  The other picnic shelters (shelter "B" and "C"), including picnic tables in the park, are available on a first-come, first-serve basis with no table saving allowed.
Guest Boat Docks
Stay overnight on our guest docks for up to seven nights (within a 30-day period).
Visit Guest Docks for details on pricing, and policy & procedures.
You can launch your boat at the trailerable Boat Launch Ramp.
Park events include, but are not limited to:
The Fourth of July Fireworks Show
Marina del Rey FREE Summer Concerts
Old Fashioned Day in the Park
Discover Marina del Rey Community Event
The Holiday Boat Parade (featuring a fireworks show)
THINGS TO DO IN THE MARINA
YVONNE B. BURKE PARK
In April, 2009, Admiralty Park was renamed Yvonne B. Burke Park, to honor Supervisor Burke's retirement after 16 years of service representing the Second District of the County of Los Angeles.
Yvonne B. Burke Park, located adjacent to Admiralty Way, has a free ParCourse Fitness Circuit on the grassy area of the park. Each station has a sign that describes an exercise, and the park is lit for night workouts. Choose one station or do the entire course – it's your decision.
The Beach Bike path (Marvin Braude Bike Trail) runs through the park. This bike path extends from Pacific Palisades to Torrance, with beautiful views of the ocean and Marina del Rey. There are many restaurants and shops along the path to stop and take in the view.
THINGS TO DO IN THE MARINA
AUBREY E. AUSTIN JR. PARK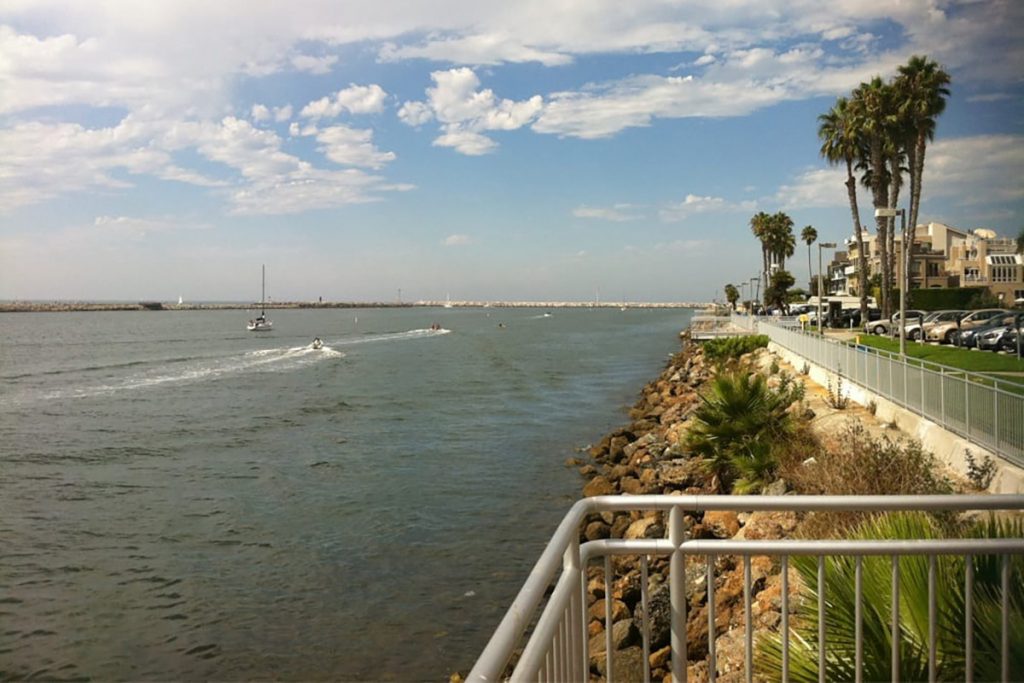 Aubrey E. Austin Jr. Park has a paved walkway out to the ocean end of the north jetty that is a favorite of joggers and fishermen. Beachgoers can walk along the jetty to reach the Marina peninsula.
There is also a quiet spot (shown above) overlooking the Marina lagoon. Both the jetty walkway and the overlook for the Marina lagoon are stroller and wheelchair-accessible.
THINGS TO DO IN THE MARINA
MARINA / MOTHER'S BEACH
Marina Beach, or "Mother's Beach" as it is referred to by local residents, is a family and kid-friendly, man-made beach in Marina del Rey.
Developed as a part of Marina del Rey in 1957 and officially dedicated in 1965, this beach provides a safe environment for kids because there is no surf in the swimming area.
The area is comprised of almost a half-mile of sandy beach with volleyball courts, picnic areas, barbecues, showers, and restrooms.
This is a great location for family outings, with playground equipment available for young children. Windsurfing and kayaking are popular activities at this beach.
There are plenty of restaurants within walking distance. "Mother's Beach" is also a favorite place to watch the yearly New Year's Eve and Fourth of July fireworks shows put on by the Los Angeles County Department of Beaches and Harbors.
THINGS TO DO IN THE MARINA
EDGINGTON PARK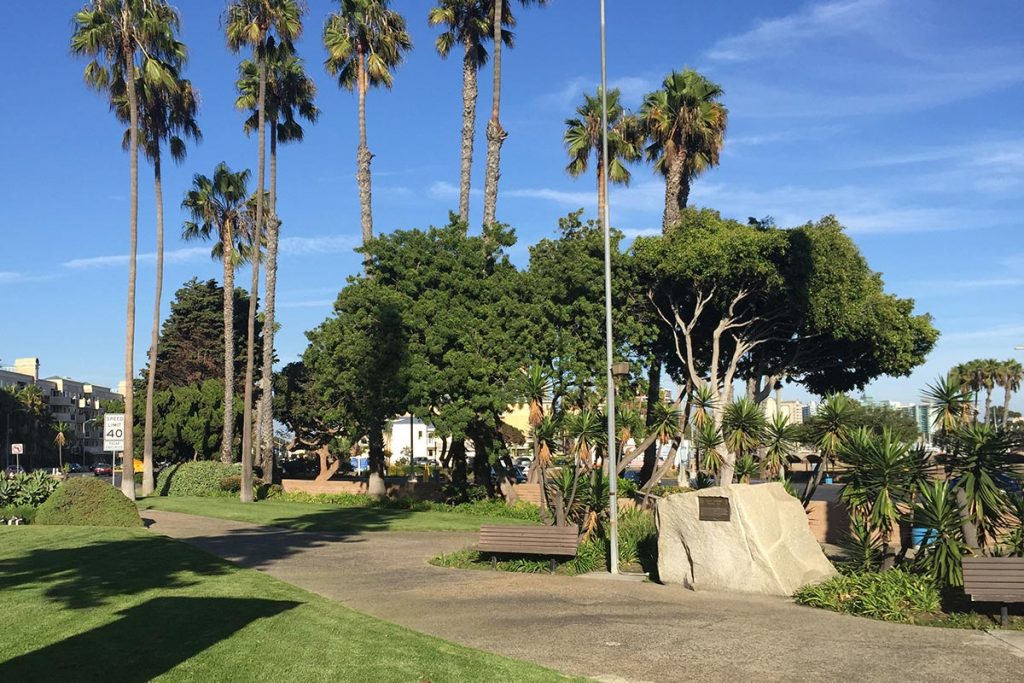 This park is a memorial for Harold L. Edgington, a dedicated Harbor Patrol officer who gave his life in the line of duty.